The Traeger pellet grill is one of the most known brands. The reason is that they have been doing a lot of promoting of their brand.
In my Traeger pellet grill reviews, I will find out if they are really that great brand they claim to be.
There are a few series that the Traeger brand offers and I will have a look at all models in them.
The first thing I noticed was that the Timberlin and Ironwood pellet grill had no chimney at the top. This is because of the downdraft feature on the Timberline and the Ironwood series. More about that later.
Traeger Timberline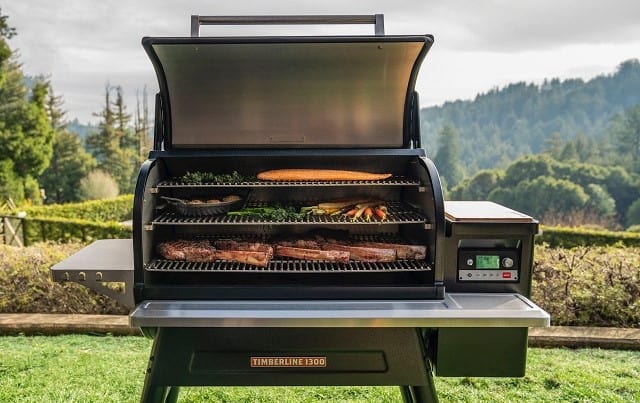 Doing this Traeger timberline review I did found 2 models there. The 850 and 1300 models.
They both have the same features and the only difference is the size.
Timberline 850 has 869 square inches cooking space
Timberline 1300 had 1343 square inches cooking space
So, that means you can call this the Traeger timberline 850 review and the 1300 review.
traeger Timberline features
3 tier grill grates
Meat probe
Temperature from 160 – 500 degrees
Hopper cleanout
Hopper capacity 24 pounds
WiFi technology
D2 grill controller
Locking caster wheels
Besides these features, they also come with the Traeger downdraft, super smoke mode, pellet sensor, and a concealed grease system. More about these later.
I have made a whole page where you can read my Traeger Timberline pellet grill review and find my opinion.
Traeger Ironwood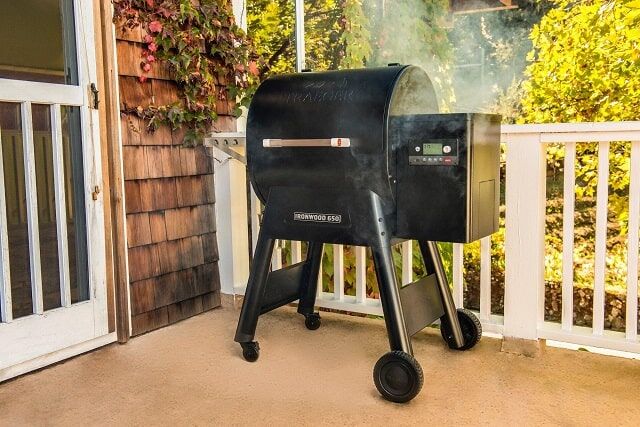 I started doing the Traeger Timberline review and again found two models. The 650 and the 885 models.
They both have the same features and the only difference is the size.
The Ironwood 650 has 650 square inches of cooking space
The ironwood 885 had 885 square inches of cooking space
Traeger Ironwood features
20 pound hopper
Hopper cleanout
WiFi
Pellet sensor
D2 controller
Porcelain coated grill grates
Locking wheels
Besides these features, the Ironwood series also comes with a downdraft system.
Let's have a look at what BBQ and bottles had to say about the Ironwood in this video.
Timberline and Ironwood downdraft
The downdraft lets the fresh smoke in the smoker for a long time before it will be drawn out at the back and bottom of the pellet smoker.
The principle behind this is that hot smoke rises and cold smoke will go down.
According to Traeger, this makes that the old smoke goes down to the downdraft and the fresh smoke stays around the meat.
Traeger Pro
The Traeger pros series comes with 4 models and in my Traeger pros review, I will dig deep into all their features.
Pros series Gen 1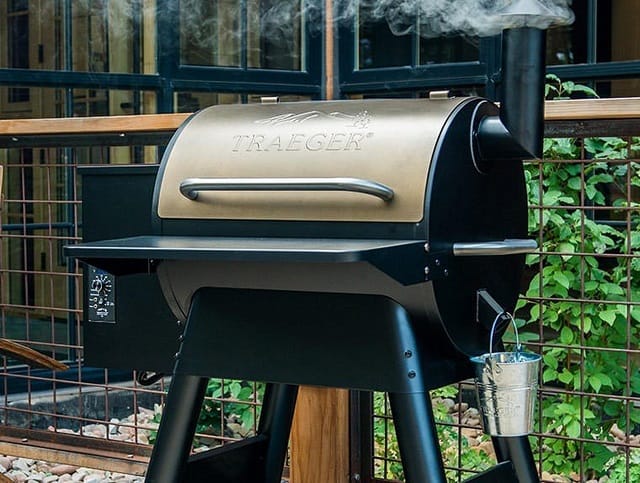 These two are the older models. That does not mean they are outdated. They still perform very well and are available in The models are:
Traeger Pro 22
Traeger Pro 34
Both have the same features except for the grill surface.
Pro 22 comes with 572 square inches of grill area
Pro 34 comes with 884 square inches of grill area
The features gen1 have features are as followed.
Pro controller
Porcelain coated grates
18 pound hopper
Meat Probe
Hopper cleanout
Pros Series gen 2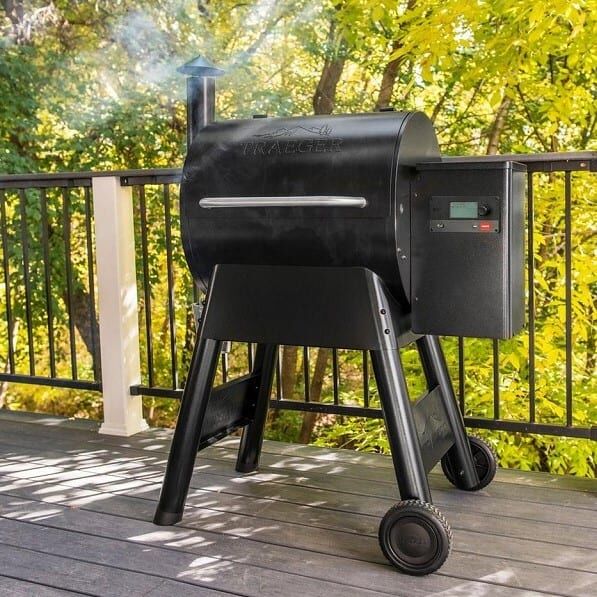 This is the newer gen 2 series and in this one, they have 2 models.
Traeger pro 575
Traeger pro 780
You can read the Traeger Pro series 780 review here on its own page.
Just as in the other models and Traeger series the only difference is the total cooking space.
Pro 575 comes with 575 square inches total cooking space
Pro 780 comes with 780 square inches total cooking space
The Traeger gen 2 features are as followed.
WiFi
Hopper 18 pound
Hopper cleanout
Adjustable grates
Removable top grate
Porcelain coated grill grates
Meat probe
I found another video that explained the Pro 575 and Pro 780 so much better than I can.
What is a Traeger Downdraft Exhaust?
Years ago I had a house where the stove had a downdraft so I know what the principle behind is. But how does that Traeger downdraft exhaust work and what is the science behind it? Here is the answer.
Traeger calls it part of their "Smoke Science" and this is how it works.
The hot air that is forced into the Traeger grill can not go to the chimney since they don't have one.
The air is forced to leave the cooking chamber to the downdraft at the backside bottom of the grill.
The advantage is that the smoke stays in your Traeger, and thus around the meat, a lot longer.
The second pro is that the smoke does not gel "old" but the chamber stays filled with fresh smoke. This is giving a better smoke penetration.
I have been reading on some forums about downdrafts and the opinions are divided. Some love and others hate it.
I think that if you are happy with the smoke flavor in your meat there is no need for a downdraft. If you like more smoke flavor it can benefit you when you use it.
Don't let the cold keep you from your next cookout! With a Traeger pellet grill, you can easily grill up your favorite meats and sides all winter long. These grills use pellets to heat up quickly and cook for many hours, so you can enjoy a delicious meal even when it's cold outside. Plus, they come in a variety of sizes to fit any need. So bring the warmth of summer inside with a Traeger pellet grill today!
Traeger pellet grill reviews – My Opinion
Traeger has been around for a long time and is certainly one of the most known brands in the world of pellet grills.
Does that automatically make them the best pellet smoker? I believe they are pretty good but there are other brands that are just as good.
I like the newer series with the WiFi and I believe that this will be a feature that more brands will be adding, if not done already.
I will be reviewing most models on their own page to help you find out more about them and will also include videos that can help even more.
Robert Chill
Robert Chill loves to cook on pellet grills and uses all types of recipes and techniques to cook some awesome food. With his experience, he is able to share many reviews, tips, and ideas on how to buy a pellet grill. You can read more about him here