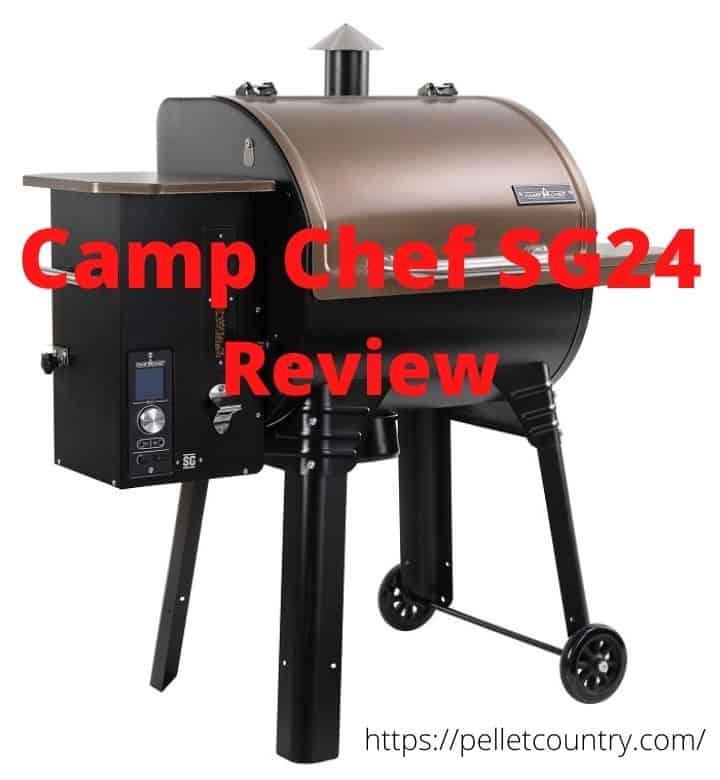 If you have been looking to up your grilling game with a pellet grill for the past years. I can help you since I searched for different brands and models here on Pellet Country.
One brand that certainly caught my eye was Camp Chef. I was curious to see what they offer and decided to dig deep into one of their top models, and the Camp Chef SG24 WIFI review will show you what is so great about this pellet grill.
The Camp Chef SG 24 wifi comes in two colors. They both have the same features so it is just a personal choice what model to choose.
Camp Chef SG 24 wifi black
Camp Chef SG 24 wifi Bronze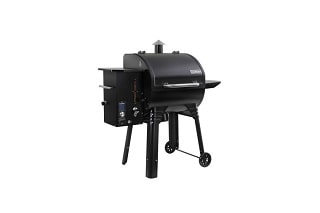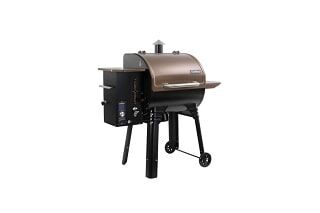 First Impression
The Camp Chef has a pretty solid build with bare metal all over and an anti-corrosion coating protecting every part of the package. It is easy to assemble, even for those who aren't mechanically equipped.
Assuming you know nothing about grills, the entire process should not take you more than 80 minutes (it took most people around 30 – 45 minutes).
Camp Chef SWG 24 features
This SG 24 model is also great for grilling and can hold up to 22 lbs of pellets visible in the viewing window. The pellets are placed in a hopper, making it easy to switch between different flavors.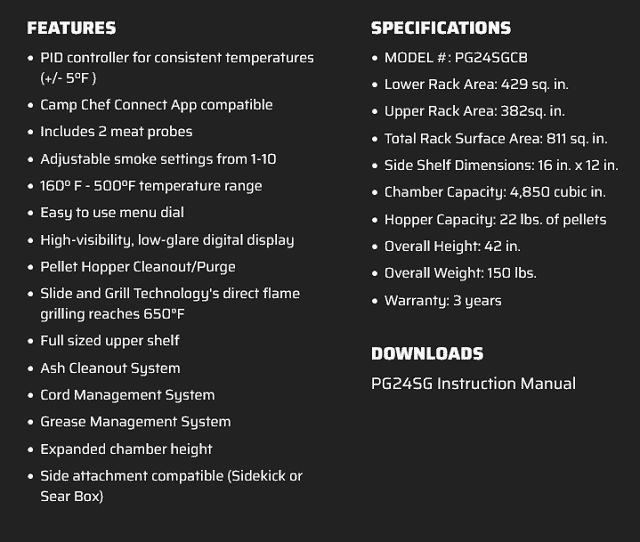 Here I will light out some of the features that impressed me the most.
Smoke control
I really loved the smoke control feature as it makes grilling more precise and easier for complex recipes. If you want a specific smoke flavor, you need to set it to a smoke level from one to ten, depending on how strong you want it to pop out. This is especially great if you want a touch of smoke, and you can set it to the lowest level.
Low smoke levels are ideal for fish and chicken where you don't want to overwhelm the flavors, while higher settings work in briskets or ribs.
WiFi Capability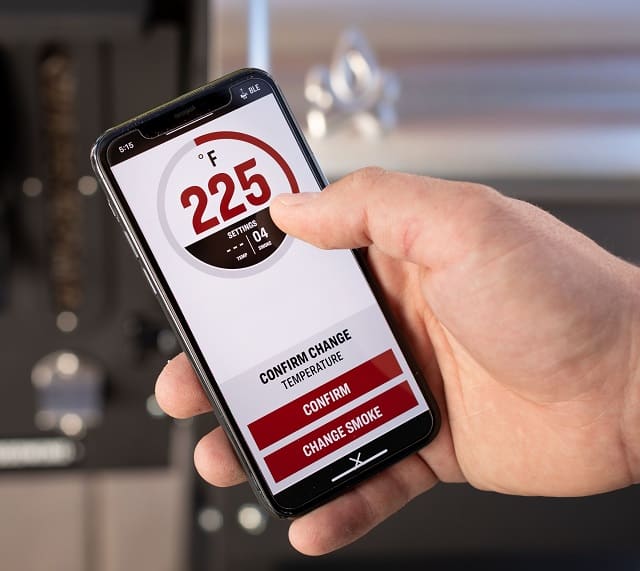 The WiFi capability allows you to connect to the custom Camp Chef Connect app, connecting to the grill via wireless signals. The app lets you set the smoke grill temperatures, smoke level, and temperature probes. It comes in handy in longer cooks where you can go away for a while without worrying about burning your ribs.
Slide-n-Grill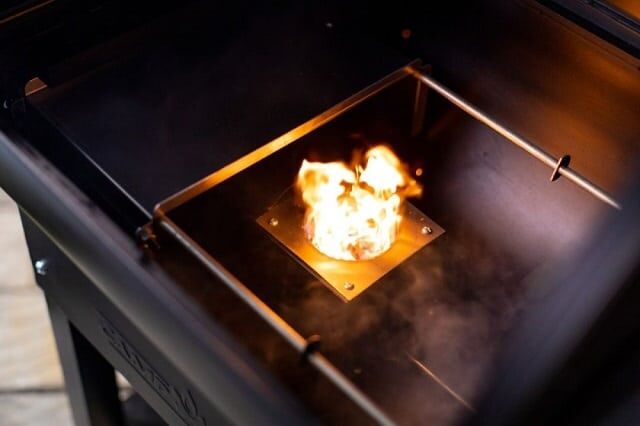 Another valuable component of the Camp Chef grill is the Slide-n-Grill compartment. It is responsible for evenly distributing the heat in the metal plate, allowing higher temperatures like in propane or charcoal grill alternatives.
Hopper view window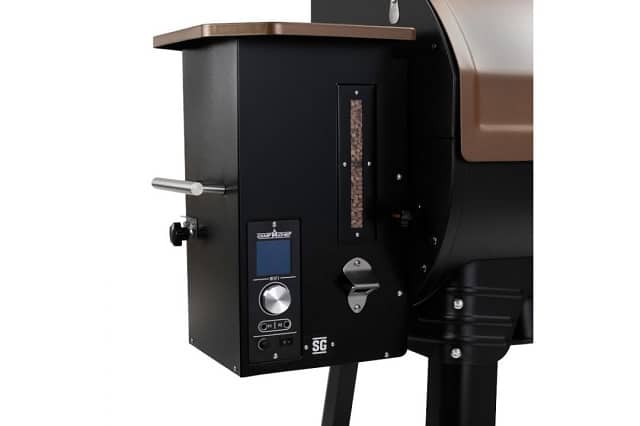 This is a feature I see coming back in many of the pellet grill reviews I did and I think it makes life a little easier. You no longer have to guess and look inside to see if you have to add pellets to the hopper.
Accessories
Now, apart from its performance, this grill boasts lots of accessories. First, the Sidekick and Sear Box are excellent additions that bring out 28,000 BTUs. It simply means you do not have to do the deep frying in the kitchen and avoid smoking it up.
Grill cover
If you have read any of my other reviews you know I am a big fan of grill covers to be used on pellet grills. I highly recommend one for the Camp Chef SG24 wifi to keep it safe from all elements.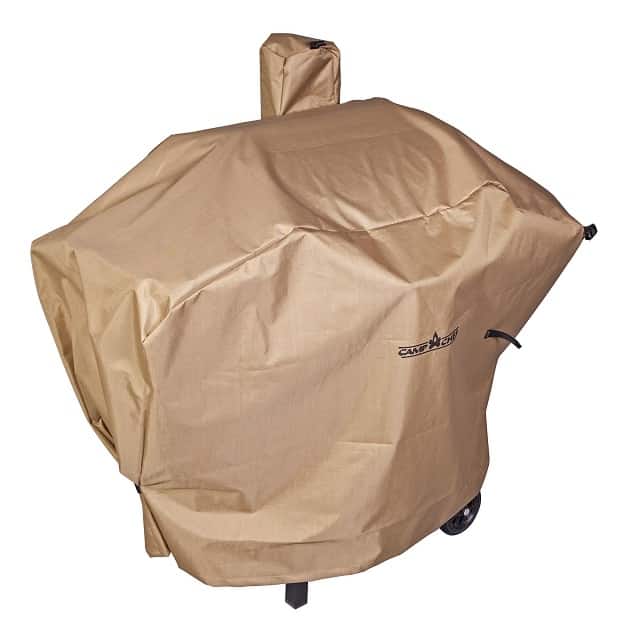 Camp Chef SG 24 pros and cons
Of course, there is no perfect pellet grill and this one also comes with pros and cons. However, what I might consider a con can be a pro for someone else. So, this is just my personal opinion.
Pros
Adjustable via your mobile device through WiFi and smoke control
Hopper cleanout
It has an excellent value-to-money advantage
The side-kick is an ingenious addition for versatile cooking
Sturdy packing to ensure easy and secure shipping
Cons
Has only two temperature probes
Installing the hopper lid and assembly can be challenging for first-timers
The grease bucket is located in an awkward position
Camp Chef SG24 wifi review – Conclusion
The Camp Chef SG 24 is an excellent pellet grill that offers superior performance and is packed with cool features for such a price point.
Its sturdy build lengthens its lifespan and makes it a great competitor in the grilling market. Overall, setting up might take longer for newbies, but does it matter? The unit is fit for all your grilling adventures, and it is a great product overall. You can find the price here!
Robert Chill
Robert Chill loves to cook on pellet grills and uses all types of recipes and techniques to cook some awesome food. With his experience, he is able to share many reviews, tips, and ideas on how to buy a pellet grill. You can read more about him here